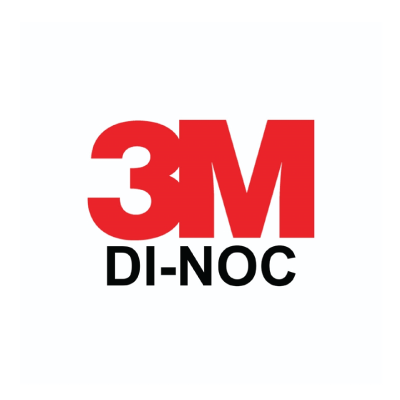 LAMINATE VS. 3M DI-NOC FILMS
HPL, or as you may know it plastic laminate, is a material designed for high traffic commercial buildings like schools, hospitals, medical offices, and more. When you walk into, say a doctor's office, and see colorful plastic cabinets from the 90s, they're likely coated with a plastic laminate.
THE PROBLEM WITH PLASTIC LAMINATE
Those brightly colored HPL cabinets that the doctor's office may be in serious need of a makeover. Those pink and teal finishes scream the 90s, so how can you modernize? The tricky thing is plastic laminate comes with several hindrances:
Without extensive preparation, primers, and time, you cannot simply paint over it. Even then, it's not a very long-lasting fix.
These surfaces are typically made from a slightly fragile blend of glue and compressed wood that easily disintegrates once you remove the surface finish.
In reality, it's easier and probably even cheaper to simply replace the entire cabinet than to attempt renewing the laminate. Unfortunately due to the glue and toxic chemicals used with HPL, these pieces cannot be recycled and will usually wind up in a landfill when replaced during a renovation.
Thankfully, there is a sustainable, easy, and affordable solution to this problem: 3M DI-NOC Architectural Finishes. Unlike plastic laminate, 3M DI-NOC films are easily removed and refinished without risking damaging the surface you cover.
REFRESH INSTEAD OF REPLACE: THE OVER-LAMINATE SOLUTION
With 3m DI-NOC finishes, you can easily update your cabinets by applying it over your old laminate. And when that DI-NOC finish eventually goes out of style, removal and replacement is easy. This can save you time, money, resources, and is much more sustainable for the environment.
DI-NOC IS A LAMINATE REFINISHING PRODUCT THAT DOESN'T COMPROMISE DURABILITY
DI-NOC takes on the surface characteristics of the substrate material it covers, meaning DI-NOC over a hard surface like HPL is a fantastic use of the material. DI-NOC can also withstand harsh cleaners like antibacterials. In addition, DI-NOC is not like natural materials, which have a porous surface that allows pathogens to penetrate. This makes DI-NOC not only safe for the environment, but safe for you as well. As we deal with the after effects of COVID-19, having a surface that doesn't harbor bacteria and is easy to clean is a major benefit.
SAVE TIME, RESOURCES, AND MONEY WITH 3M™ DI-NOC™
Using DI-NOC architectural films instead of HPL saves resources, time, and money. With how quickly and cleanly it can be applied, it's not hard to see why it is the ultimate choice for easy restyling and renovation.